Special Techniques
Fratelli Borgioli shoes are well-known for the sole construction. We only use handicrafted leather soles. The soles are sewn to the upper with Blake or Blake Rapid construction. Every single shoe is trimmed by hand.
Blake construction
In this construction the outer sole is directly stitched to the insole. This allows more flexibility and lighter weight of the shoe.
Blake rapid construction
The peculiarities of this process are represented by two phases: the first seam that binds the leather insole to a first sole, said midsole. Subsequently a second seam is made, that binds the midsole to a further layer of leather, which makes the bottom end of the shoe.
Blake rapid construction have similar benefits as Goodyear welted shoes, with the possibility to resole the shoes.
Blake construction is largerly used in winter collections, it allows to have an indestructivle shoe with soft and comfortable fit.
On some shoes, in addition to the classic processes described up to now, Fratelli Borgioli shoe factory uses special techniques.
Goodyear welt construction
The welt, a long strip of sole leather, is sewn both to the edges of the upper and to the insole. The seam between the welt and the upper is hidden between the outsole and insole. This is the sturdiest, most laborious method of shoe construction that ensures the premium quality of the shoe. The Goodyear welted shoes can be easily resoled.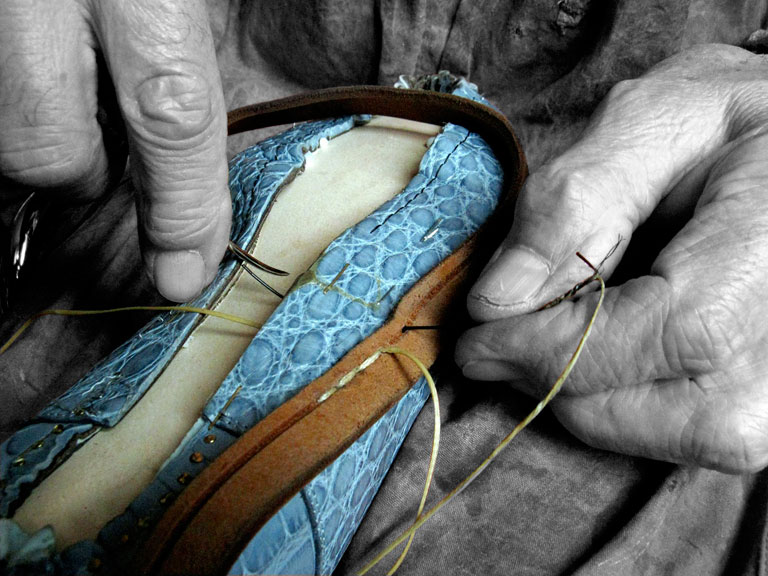 Norwegian construction
Three seams are needed to complete this complex process. The first joins the upper to the insole, and the second joins the turned-out edge of the upper to the midsole. So obviously, in this process, the edging around the perimeter of the shoe and of the sole is not created by the welt, but by an actual midsole. Then the outsole is sewn to the latter, to create a single body. This complex, fascinating method, ideal for customers who want solid, sturdy footwear, makes the shoe highly waterproof.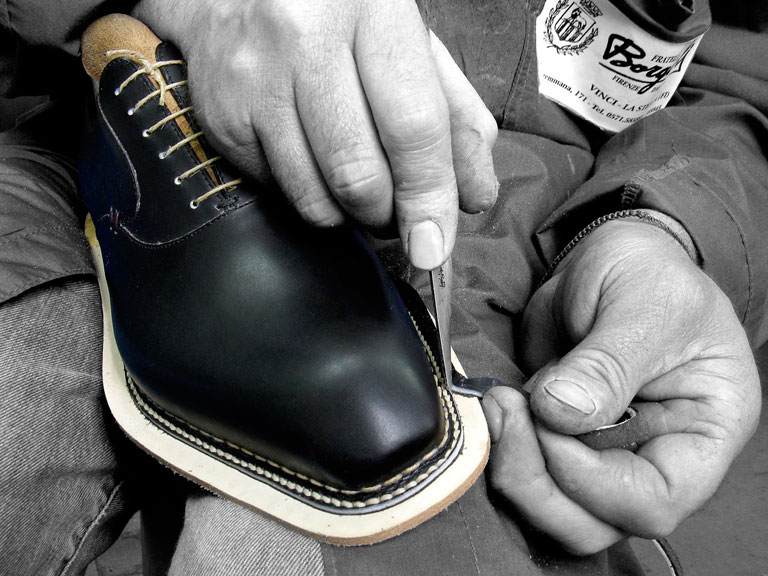 Flex construction
Flex construction calls for an insole made of fine, thin leather rather than thicker shoe leather, giving the footwear extraordinary flexibility and comfort. This construction is largerly applied both for summer and winter styles.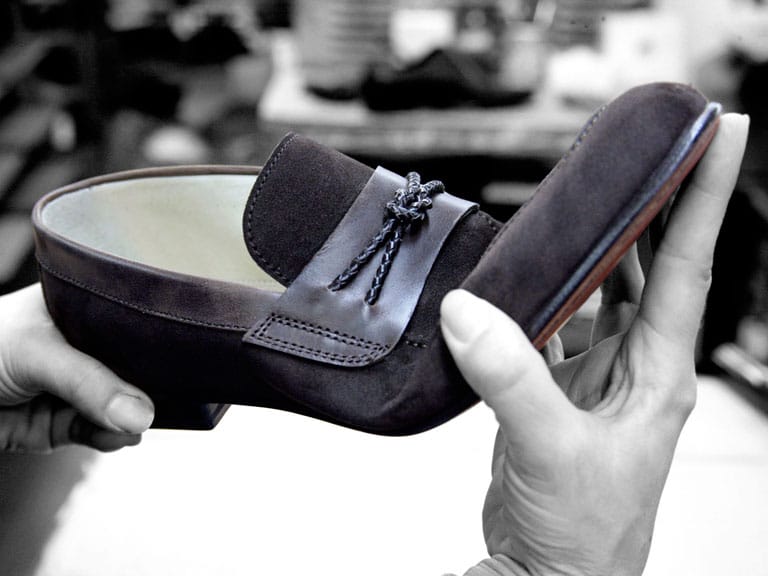 Driving shoes
Fratelli Borgioli has renewed this famous car shoe construction combining the convenience and look of the car shoe with the comfort of walking and city shoe.
The advantages of this construction made by Borgioli are:
the tubular construction with natural materials that give a high breathability and comfort
the presence of a cavity in natural leather which protects the foot from the stress of walking
the leather combined with the rubber sole which operates as a thermal insulator, both in the summer and for the winter
MemorFlex
MemorFlex is new Borgioli proposal that gives the shoe even more flexibility and comfort.
This construction offers the following advantages:
Flexible outsole increases comfort, while retaining the strength characteristics of the shoe
The insole, in antibacterial latex foam, absorbs shock during walking
"Memory effect" to crushing
Maintains the breathability of the foot
Absorbs moisture and releases it at rest